Location: Santo Domingo, Dominican Republic
Date: September
Needing to clear my head and take a mental break, I yearned to find a new destination to explore. Somewhere inexpensive, less than 4 hour flight from New York and lots of history. Google told me Santo Domingo as an option, so off I went. The only photos and knowledge I had of Santo Domingo was incredible beaches, but not much else. I did a bunch of research and booked a sweet boutique hotel right in the heart of Zona Colonial called Boutique Hotel Palacio. I wanted to stay in the heart of the city versus on the beach because I wanted to walk around and explore the small side streets and surrounding churches and sights. I spent five days wandering the city, learning about its history, journaling at local cafes, beach front dining in Boca Chica, and magical cave exploring. I wouldn't say that I felt 100% safe at all times, but this solo trip was well worth all the sights and exploring. There is something so beautiful and empowering about spending time alone in a place unknown to you that I hope you too have trips to share of your solo travels. Share them with me below!
Give me 30 seconds:
Brush up on your Spanish. Almost nobody speaks English (except for the hotel).
Tipping is a must here.
My two favorite places to eat were Adrian Tropical and Meson D'Bari. Adrian Tropical was right above the water and had really authentic Caribbean food. Meson D'Bari was around the corner from my hotel and had the best chicken empanadas of life. I'd fly back just for the empanadas.
The Santo Domingo Currency is the Dominican Peso, RDS.
Must Visit: Alcazar de Colon, Cathedral of Santa Maria, Los Tres Ojos, Cathedral Primada de America, Jardin Botanico Nacional, Zona Colonial.
Cathedral Primada de America
One of my favorite and most memorial cathedral in Santo Domingo was the Cathedral Primada de America. The coolest thing about this cathedral, is that it is the oldest in operation in the western hemisphere and the first stone was set in 1514 by Diego Columbus, the son of the great explorer. The inside consists of stunning vaulted ceilings and 14 interior chapels and daily mass is performed at 5pm. Shorts and tank tops are prohibited and they will require you to cover up. If you don't have something to do so, they will lend you a scarf to wrap around. I'd suggest getting the audio tour so that you can hear all of the history of each chapel. Admission along with the audio tour is about $2USD.
Los Tres Ojos, Santo Domingo
"The Three Eyes" National Park is an absolute must. Its in the middle of nowhere and after all of the Trip Advisor research I did, I knew I had to take a little adventure to get here. Los Tres Ojos is located in Mirador del Este park and is home to open air limestone caves. When you arrive you pay a small admission fee is 100RD which is about $1USD. There are many "tour guides" there to show you around the park and the caves, but they sort of trick you in what price you will pay for the tour. There are no set prices as I believe they work for themselves and if you're a tourist, the prices inevitably go up. I paid $20USD including tip for my tour. Seemed steep but since I was alone I wasn't going to argue. The tour guide does double as a photographer so thats helpful. My guide spoke great English and my driver came along with me as my "body guard". He didn't like that I was traveling alone and so he felt compelled to go with me to every place I went. I only knew his name was Juan and he spoke not a word of English.
Words can not describe the beauty and depths of these caves. Even my photographs do not do it justice. There are a LOT of stairs leading down into the caves, so if you have issues with stairs, you might not get to go up close into the cave. There is a "ferry" that brings you into the third eye cave that opens up into a massive oasis of lush tropical trees and enchanting rock formations.
Zona Colonial, Santo Domingo
Wander the 11 blocks of historical and fun filled streets of Zona Colonial and get lost between old and new world treasures. This walled city holds the oldest permanent settlement in the New World. Zona Colonial holds claim to the first cathedral, monastery, university, hospital and customs house in the "New World". Alongside the churches and monuments are vendors selling delicious exotic fruit cups, handmade bracelets, paintings and leather goods. I personally didn't find anything interesting enough to purchase. My driver Juan's daughter, who was sick in the hospital, did make me a bracelet, which I keep with me in my journal to always remember this trip.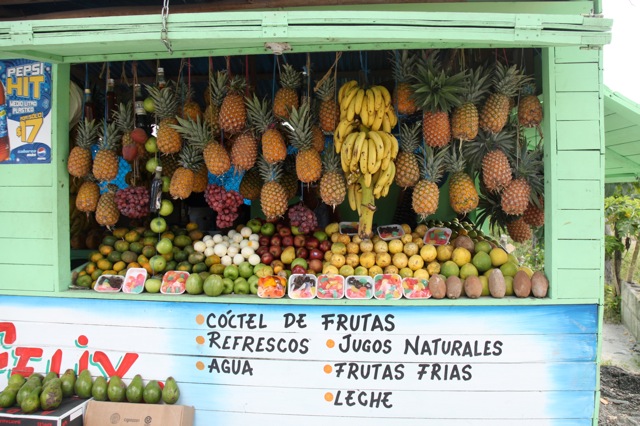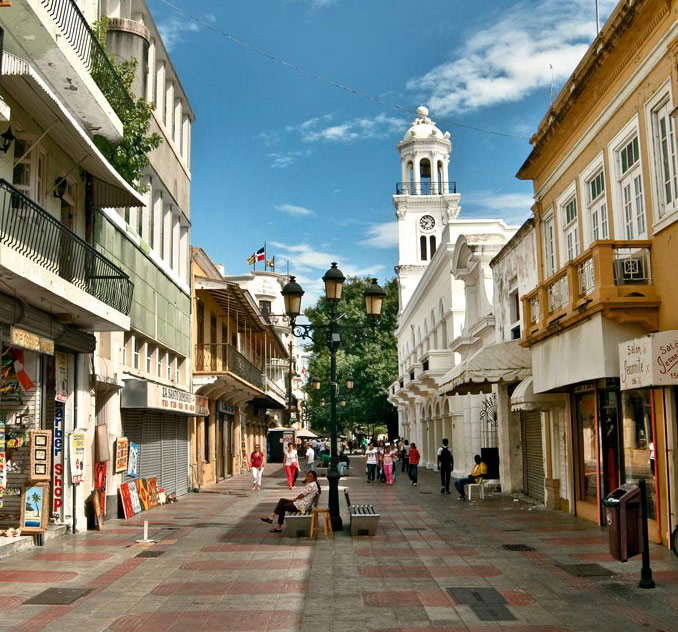 Jardin Botanico Nacional, Dominican Republic
Its easy to forget that this garden is in the center of a metropolitan area of over 2 million people. The Jardin Botanico Nacional is a lush 2 square km national garden, home to aquatic plants, ferns, orchids, palm trees, a Japanese Garden, a butterfly conservatory and so much more. I spent the day wandering the garden, soaking in the sun and serenity while journaling and enjoying the wildlife and foliage. Inside the garden there is a butterfly conservatory in which you walk into a fully netted area and are surrounded by various types of butterflies, all fluttering around you. Its quite magical. Entrance to the botanical garden is $.10 and $.50 for the butterfly conservatory. A taxi ride from Zona Colonial is about $7USD.
Boca Chica, Santo Domingo
Boca Chica is the only beach that I spent time at while on this solo trip. I wouldn't particularly say there is anything noteworthy about this beach. Food and drinks are served right on the beach and there are guys walking around shucking fresh oysters and clams for you to eat. Beware though, you must be firm with how many you want as they will keep serving them to you and then all of a sudden you're paying him $30USD. Thats a lot of money there. I had a grilled fish plate with vegetables and that was another $30 and it wasn't that impressive. I did snap a photo of the preparation though. A lot of vendors will walk up and down the beach selling inflatable animals, sweets, cigarettes, you name it, they probably had it for sale.
Overall thoughts, if I ever come back here, I will probably just stick to the beach area. I don't think I would need to see any of the sights I saw again. A beautiful and unique as they were, this trip was about reflection and being alone and I got just that. What are some of the beaches I should check out in Santo Domingo if I return?
Share with me your best solo trips, I'd love to feature them so you too can inspire others!
As always, go JETSETAWAY!